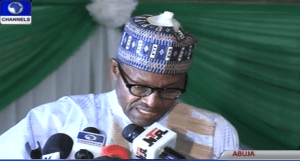 Buhari The President-Elect, Major General Mohammadu Buhari (Rtd), has been urged to call members of the All Progressives Congress (APC) in Ekiti State to order, saying the party must not use desperation for power to cause instability in the State.
The call was made by an Abuja based group, the Society for Rule of Law in Nigeria (SRLN) in a statement issued on Thursday and signed by its National Coordinator, Dr Chima Ubeku.
The SRLN said that the APC should stop behaving like bad losers and emulate President Goodluck Jonathan and the Peoples Democratic Party (PDP).
The group said: "Fayose won an election likewise General Muhammadu Buhari. If President Jonathan conceded defeat and PDP is not doing anything untoward against Buhari's victory, why can't the APC toe the same line in respect of the Ekiti election?
"Why is it that the APC that won the presidential election is fomenting trouble and trying to cause instability in Ekiti?".
On the State Assembly crisis, SRLN said; "Since it was the APC lawmakers that went to court, they should allow the court to adjudicate instead of taking actions capable of overreaching the court."
The group, which commended President Jonathan for acting like a statesman, added that; "Buhari should reciprocate by calling members of his party to order so that they don't cause anarchy in Ekiti and other States not controlled by the APC."